Hello TCS families. We know these are difficult times. It is good to remember what our Lord told Joshua as he prepared for a big challenge in his life.   Joshua 1:9 says, "Be strong and courageous! Do not tremble or be dismayed, for the Lord your God is with you wherever you go." We are praying for each of our school families. Join us in praying for each other during this challenging time.  Here are a few news items that we wanted to share with you. Have a great weekend!
Distance Learning
We trust your family's distance learning experience is off to a good start.  TCS teachers are working hard to continue to provide TCS students a Christ-centered education marked by excellence and grounded in Biblical Truth.  We realize there will be challenges along the way, but we thank you in advance for working with us to make this the very best educational experience it can be for our students.
1st Grade Distance Learning Experience
Students in first grade have had the opportunity to doodle with Mo Willems this week during their lunch time at home. Mo Willems is the author and illustrator of the popular Elephant and Piggie book series. It has been so neat to see all the authors, artists, and educators who have thought outside the box during this time. They have created so many learning opportunities for our students at home- and all for free!
K5 Distance Learning Pictures
We hope you enjoy the pictures of our Kindergarteners working from home.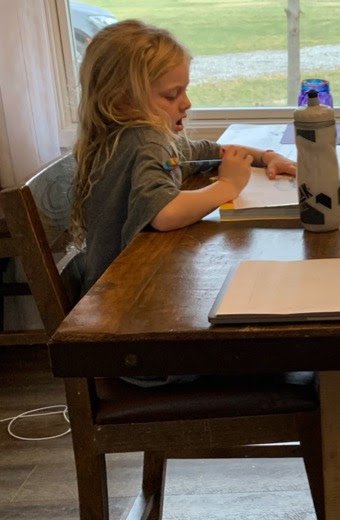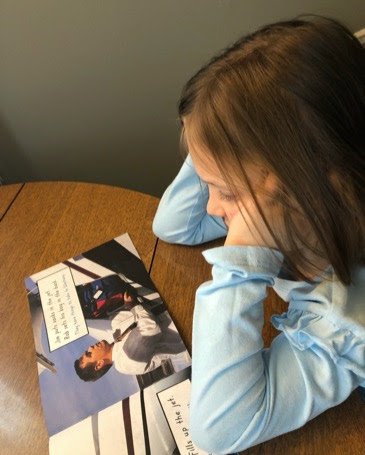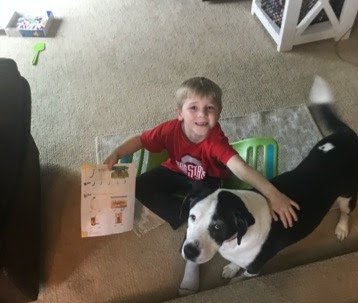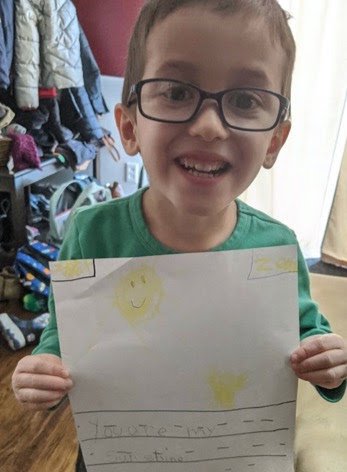 4th & 5th Grade Field Trip
The fourth and fifth grade attended the "Maple Syrup Tour" put on by the Ottawa Metro Park District.  We enjoyed walking through the woods while learning about how maple syrup was produced by the Native Americans, Pilgrims, and how it is currently produced today.  The students also got to try some maple syrup that the park district had made on pancakes!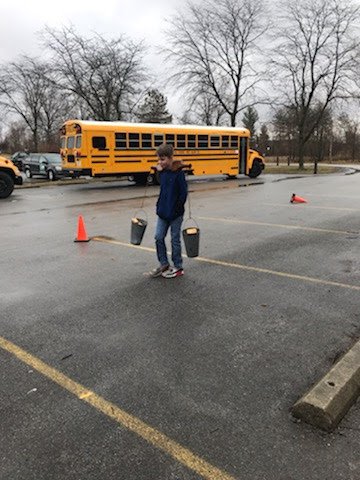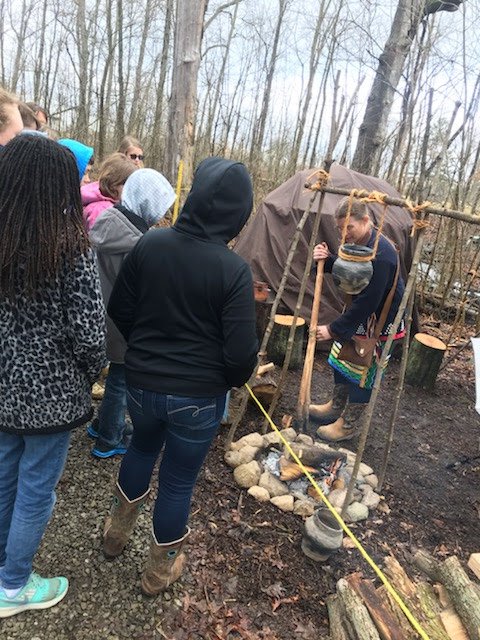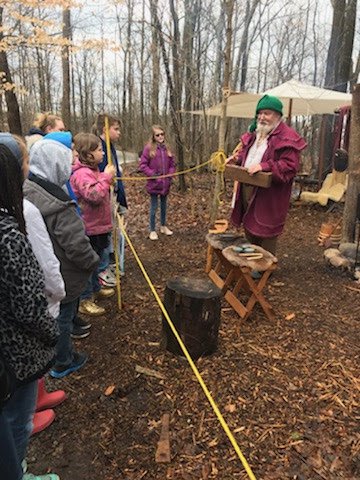 7th Grade Science Lesson
In Science 7 last week, students learned the proper techniques for using microscopes.  They prepared their own wet mount slides, and also studied prepared slides.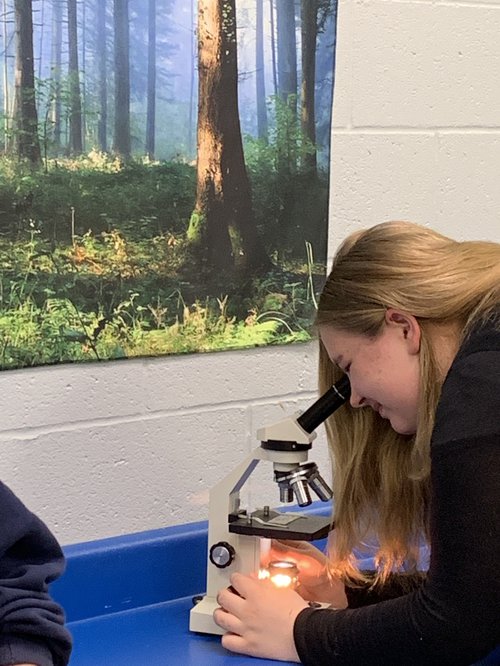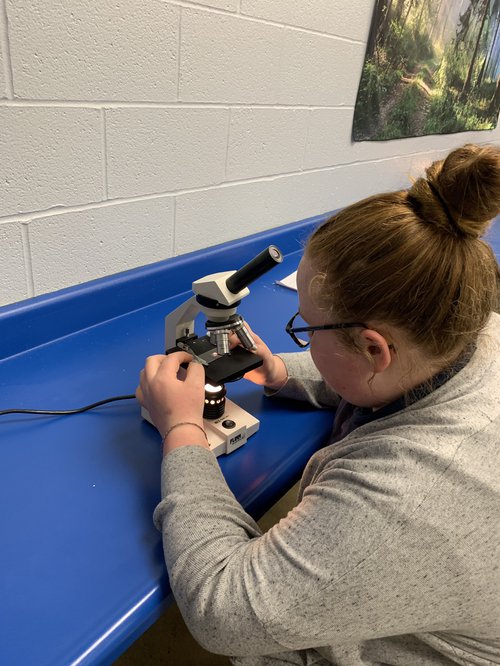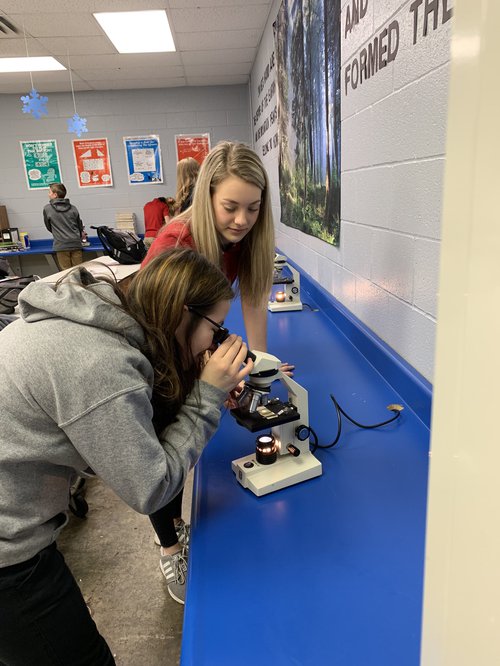 Student Recognition
TCS senior Grace Smith was recognized recently by the Lima Optimist Club for her excellence in youth leadership. Her recognition was a part of Youth Appreciation Week. Congratulations Grace for a job well done!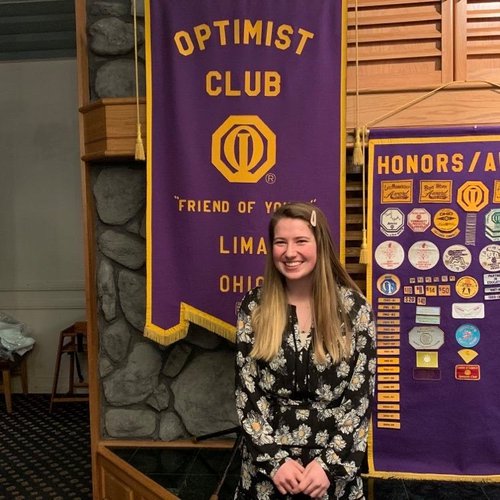 TCS School Play
Congratulations to Director Wendell Hill and the cast and wait staff of "Cafe Murder" for the fabulous job they did on their murder mystery dinner theater production last weekend. Great job students!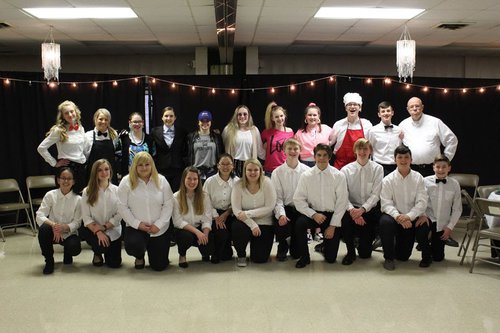 Return to school
Our tentative return to school date is Monday April, 6th.  We are aware that this date could be extended by the Governor of Ohio.  We will communicate any changes when we are made aware of them.  Please get used to checking your email, social media and, of course, school wide texts for important communications. Thank you.
Re-enrollment deadline extension
Due to the health and financial crisis we are currently experiencing, TCS will be extending the early enrollment deadline from March 31st to April 30th. We understand that this is a challenging time for many families. This will give families an extra month to take care of re-enrollment fees, which are $100 per child before April 30th and $150 per child after April 30th.
EdChoice Scholarship Renewal
Renewals for EdChoice Expansion (income based) Scholarships began on February 1st.  EdChoice Traditional (eligible schools) Scholarship renewals are scheduled to begin on April 1, 2020.  For both scholarships it is vital that we submit the renewals as early as possible.  ODE requires that re-enrollment forms and fees be turned in before we renew scholarships. Please contact Amy Link (419-227-1644, ext. 1 or linka@tcspioneers.org) in the elementary office with questions regarding your child's EdChoice Scholarship. All EdChoice renewal forms and proof of address (utility bill or other option) must be turned in to Amy Link in the elementary office by April 1, 2020 so we can meet ODE's April 15 deadline.  The elementary office will be open to assist you.  Thanks for understanding!
EdChoice Expansion Scholarship Opportunities
The state of Ohio's EdChoice Expansion Scholarship program has been extended to include all incoming K-12 students whose families meet the state income requirements. As a reminder, the extended program will also allow any current TCS families to apply for an EdChoice Expansion Scholarship if they meet current state income requirements.To qualify, your total household income must be at or below 200% of the federal guidelines.  For example, a family of four making less than $52,400 would qualify to apply.  An income chart has been attached. Families should have their applications to Amy Link in the elementary office by April 1st so that they can be processed before ODE's April 15th deadline.  Please contact the elementary office if you would like more information on this opportunity.
Yearbook
Be an early bird! Order your 2020 TCS Yearbook by March 31st and you will be entered to win a free yearbook from any PREVIOUS year! You can email your order request to Mrs. Searcy or order online at jostens.com. Contact Mrs. Searcy at searcy@tcspioneers.org if you have questions.
Scholastic Book Fair Wrap Up
Another successful Scholastic Book Fair is all wrapped up!  Thank you to all of our volunteers, teachers, students and grandparents for your support.  Our total sales were $6226.72!  We earned 50% of that in free books and other merchandise for our classroom libraries.  Now to start planning for next year...
Important Dates:
Mar. 20          End of 3rd Quarter
Mar. 27          Grades sent home (Via email)
Apr. 6             Tentative return to school date
Apr. 8-13       Easter Break – No School