Hello TCS families.  Here are a few news items that we wanted to share with you. Have a great weekend, enjoy the last week of school, and be blessed with a wonderful summer!
"Whatever you do, work heartily, as for the Lord and not for men, knowing that from the Lord you will receive the inheritance as your reward. You are serving the Lord Christ". -
~Colossians 3:23-24
Elementary Chapel: Students really enjoyed the last chapel of the year.  Mr. Jerod Kiser (TCS Business Manager) taught a very interactive lesson about how students can continue to move forward in their relationship with God over the upcoming summer.  He reminded them that, as they participate in all of the wonderful activities of summer, they shouldn't forget to read God's Word, pray, worship, and go to church. Thanks to all of those who have helped make elementary chapels a blessing to our TCS students!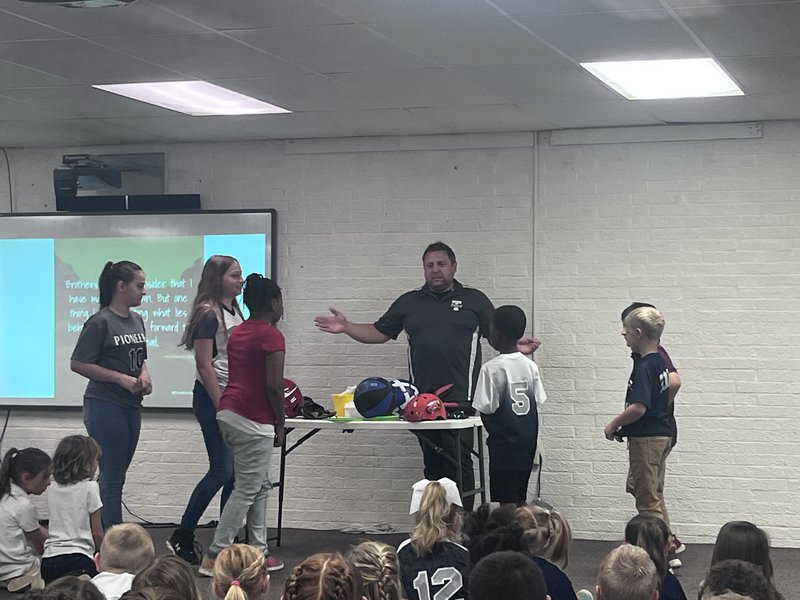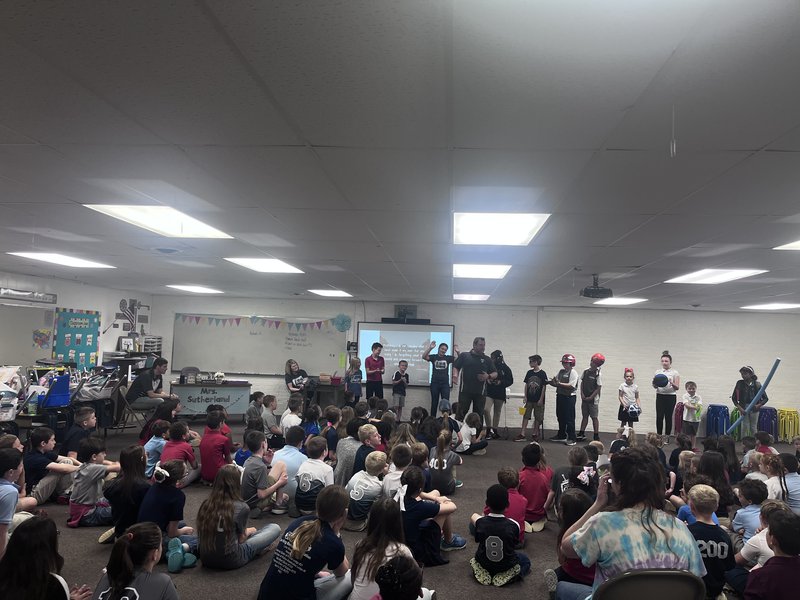 Senior Chapel: The final M.S./H.S. chapel of the year was our Senior Chapel.  Graduating seniors sang their class song and shared memories of TCS with the rest of the student body. We will miss you seniors!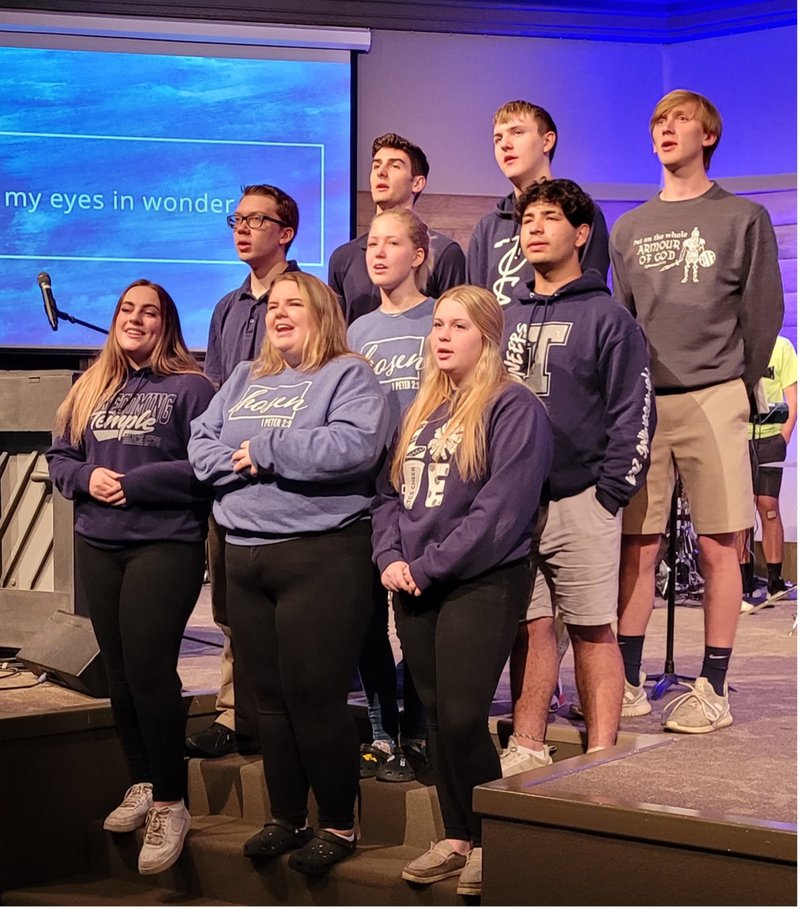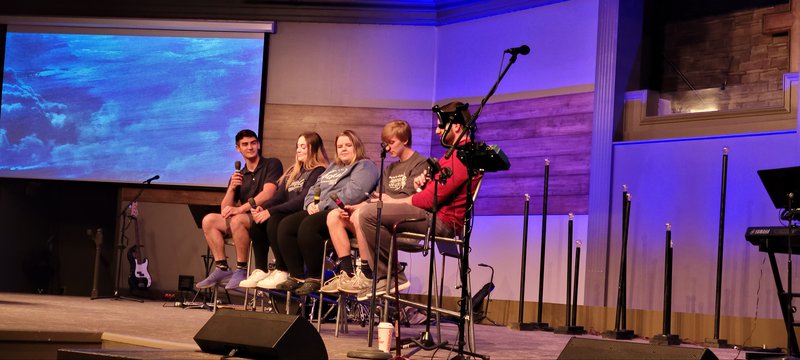 Elementary Field Trip: The first and second grade classes had a wonderful field trip visiting the MVP Dairy Barn in Celina! The students learned about the milk process from soil to cup. Students were able to milk a pretend cow, ride shuttles through the barns to get up close and personal with the cows, and even taste a complimentary yogurt at the end. Their favorite part was getting to watch the carousel in action!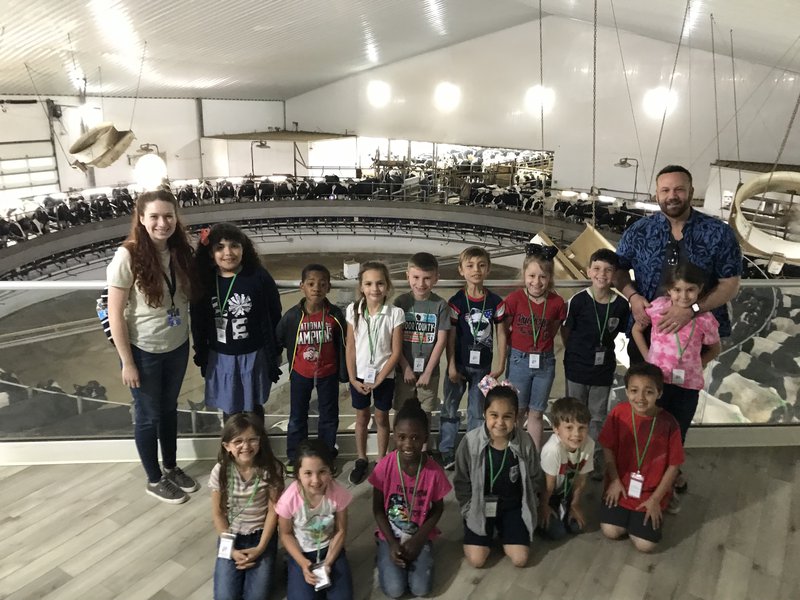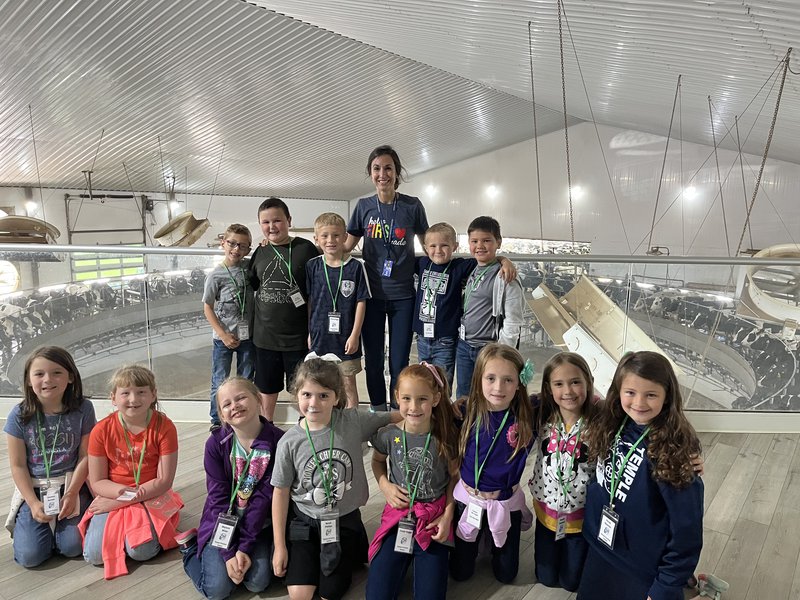 Middle School Field Trip: The 6th and 8th grade students enjoyed a beautiful day in Logan and Champaign Counties last Friday. The classes visited Logan County History Museum in Bellefontaine to learn about area history, and they toured the Orr Mansion. Nehemiah White (8th grade) even found out that he has an ancestor featured at that museum--Freeman Breaston! He was interested in the name and came home to research it!  Next, the students traveled to Ohio Caverns where they saw God's creation underground. They learned cave terminology and had the opportunity to shop in the store there. It was a nice way to celebrate the school year!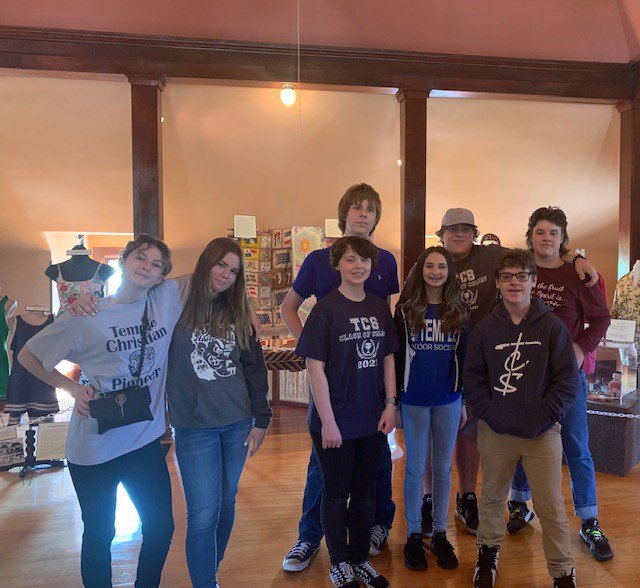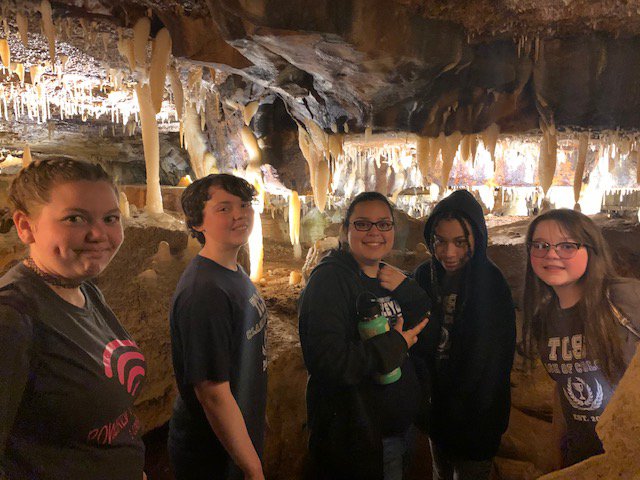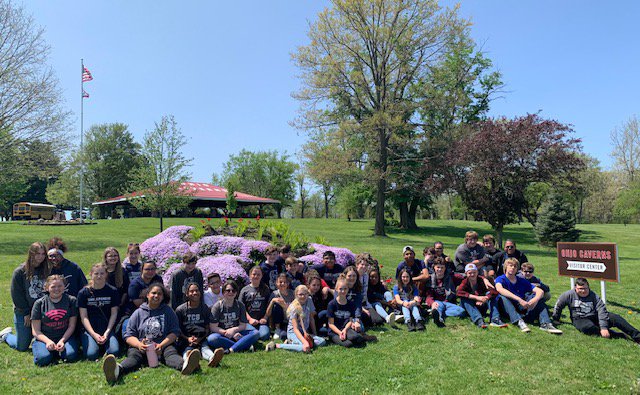 2022-23 Student Government: Congratulations to the following students who have been selected to represent the TCS student body in 2022-23: 
Seniors: Caleb Kiser, Kaylee Linhart, Ilona Szuch
Juniors: Leyton Chambers, Emmanuel Powell, Quinten Waters
Sophomores: Emma Engle, Gabrielle Heffner
Freshmen:  Russell Powell, Bryson White
8th Grade: Caynan Schick, Jeremiah Sheets
7th Grade: Andrew Hartung, Addia Linhart
Clash of Colors: Congratulations to the Gray Team for winning this year's MS/HS Clash of Colors. Sixth through twelfth grade students are divided into either blue or gray teams for the Spring. They participate in various games, as well as raise money for a local charity. This year the students raised $1,000 for the local chapter of the Salvation Army. The students competed weekly in games to see which team would be Clash of Colors Champion for 2022. Last Spring (2021) was the inaugural year of Clash, and the Blue team was victorious ... but this year, the Gray came out on top!  Congratulations!

Youth Indoor Soccer: For the past 3 weeks, our 4th through 7th grade soccer players have been competing in an indoor soccer program directed by our HS Soccer Program and its players. Each week the boys played indoor soccer in the TCS Gym as well as learned about team bonding and creating unity in our soccer program from top to bottom. Our Varsity players enjoyed coaching the students as they improved their soccer skills!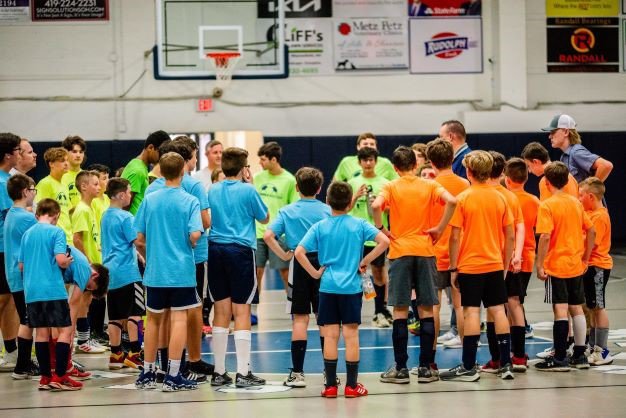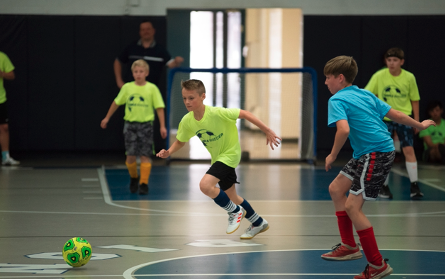 End of the Year Events: Please check our calendar below for some very important end of the year events here at TCS.  Elementary students will be enjoying a fun-filled field day, K5 students and their families will be a part of a memorable graduation ceremony, seniors will go on their annual senior trip, middle school and high school students will be taking their finals, and students will be honored for their academic achievements at their respective awards assemblies. The 2021-22 school year will culminate with our Senior Graduation Service on Friday night, May 27th at 7:00 P.M. in the LBT sanctuary. 
Re-enrollment:  Thanks to all of those who have completed re-enrollment for the 2022-23 school year.  If you have not completed the process, please help us prepare for next year by completing your re-enrollment soon. If you need the paperwork or have any questions, please contact Amy Link in the elementary office (419-227-1644). Thank you!
EdChoice Scholarship Renewal: If you have not completed your Renewal for the EdChoice Expansion Scholarship or the EdChoice Traditional Scholarship, please contact Amy Link in the elementary office (419-227-1644).  We want to make sure that all students have their scholarships renewed in time for the beginning of next school year. Thank you!
Lost and Found:  Please stop by the elementary office and look through the Lost and Found items before the end of the year.  Unclaimed items will be donated.  Thanks.
Youth Girls Volleyball Camp Registration: Girls going into Grades 3-8 .. check out Volleyball Camp information HERE 
Fall Youth Sports Registration: Girls and Boys going into Grades K through 8 can register for Fall 2022 Soccer or Volleyball HERE (Registration Closes July 1)
Sports Calendar:
May 20     HS Track & Field @ District Finals (Spencerville) 4:00pm
May 20     HS Baseball @ Lima Senior JV 5:00pm
May 21    Youth Track & Field @ Elida 9:00am
May 23     HS Baseball @ Perry JV 5:00pm 
May 24    Youth Baseball @ Faurot Park #5 6:15pm 
May 25    HS Track & Field @ Regional Qualifying (Troy HS) 4:00pm
May 27    Youth Baseball @ Faurot Park #5 6:15pm
May 27    HS Track & Field @ Regional Finals (Troy HS) 4:00pm
Important Dates:
May 22-24  Senior Trip
May 24       Kindergarten Graduation
May 25       K4-Grade 5 Field Day
May 25       M.S. Awards Assembly 2:15 P.M.
May 26       H.S. Awards Assembly  1:30 P.M.
May 26-27  M.S./H.S. Final Exams  1:00 Dismissal
May 27       Elementary Academic Awards Assembly K4-5th Grade 12:00 P.M.  (LBT Sanctuary)
May 27       End of 4th Quarter -  Last Day of School  1:00 Dismissal
May 27       H.S. Graduation  7:00 P.M.  (LBT Sanctuary)
May 28       TCS 9th Annual Golf Outing  Hidden Creek Golf Club  9:00 A.M.
May 30       Memorial Day
May 31       Faculty Work Day   9:00 A.M.- 12:00 Noon
Lunch Menu for the Week of May 23, 2022
Monday         Chicken Parmesan Sandwich, Pudding,Veggies w/ranch
Tuesday        Pizza  $1.00/Slice
Wednesday   Hotdog, Ice cream Sandwich, Veggies w/Ranch
Thursday       Cheeseburger, Fries, Fruit
Friday            Pizza  $1.00/Slice