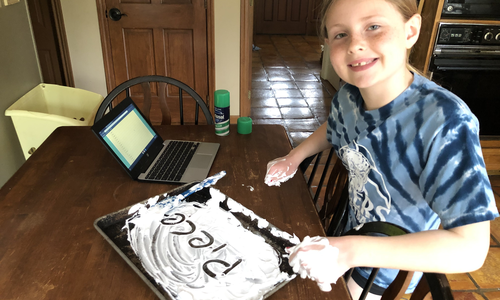 Hello TCS families. We trust that you are all staying safe and healthy.
May the God of hope fill you with all joy and peace as you trust in Him, so that you may overflow with hope by the power of the Holy Spirit
End of School Year
As we communicated earlier this week, we will be ending our school year one week early. The school year will end next Friday, May 15th.  The Seniors last day is today, Friday May 8th.  We know this last quarter has been a big challenge for everyone.  We greatly appreciate each of you working hard to make the most of this distance learning experience.
Calendar of events for the conclusion of the 2019-2020 school year

| Date | Event |
| --- | --- |
| Friday, May 8th | Seniors Final Academic Day |
| Thursday, May 14th | Middle School & High School Awards Assemblies via Zoom *Invitations to the MS/HS virtual awards assembly will be emailed to participants on Monday, May 11th* |
| | Middle School Assembly - 6:30 P.M |
| | High School Assembly - 7:15 P.M |
| Friday, May 15th | K4-11th Grade Final Academic Day |
| Friday, May 15th | Elementary Awards Assemblies via Zoom *Invitations to the Elementary virtual awards assembly will be emailed to participants* Times To Be Announced |
| Tuesday, May 19th / Wednesday, May 20th | K-12th "Pick up/Drop off" books, computers, supplies, etc. *Important Instructions and information are ATTACHED BELOW* |
| Friday, May 22nd | "Class of 2020" Virtual Graduation *Film/Video Premiere 7:00pm via Facebook/Youtube* |
| Friday, May 29th | 2019-2020 Final Grade Cards Emailed |
TCS Pick-Up and Drop-Off Dates, Times, and Instructions
2019-2020 End of Year - Pick up & Drop Off.pdf
Distance Learning Activities
We trust you enjoy seeing some of the distance learning activities our students are participating in.
Creative Writing Style
Third Grader Isabelle Kinnear worked on this week's spelling words using shaving cream and her finger.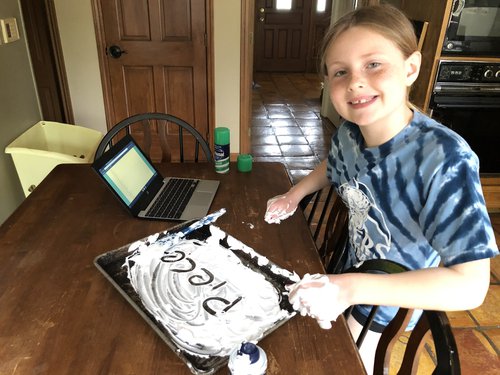 5th Grade
The fifth graders have been working hard and are finishing up their study of geometry by learning how to find volume and surface area. This week the students were asked to find objects around their house to measure and find the volume. We have also been spending time reading good books in cozy spots!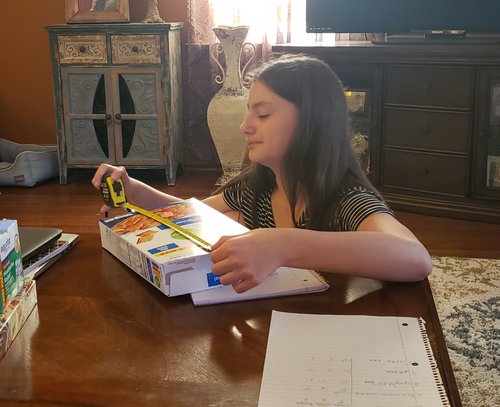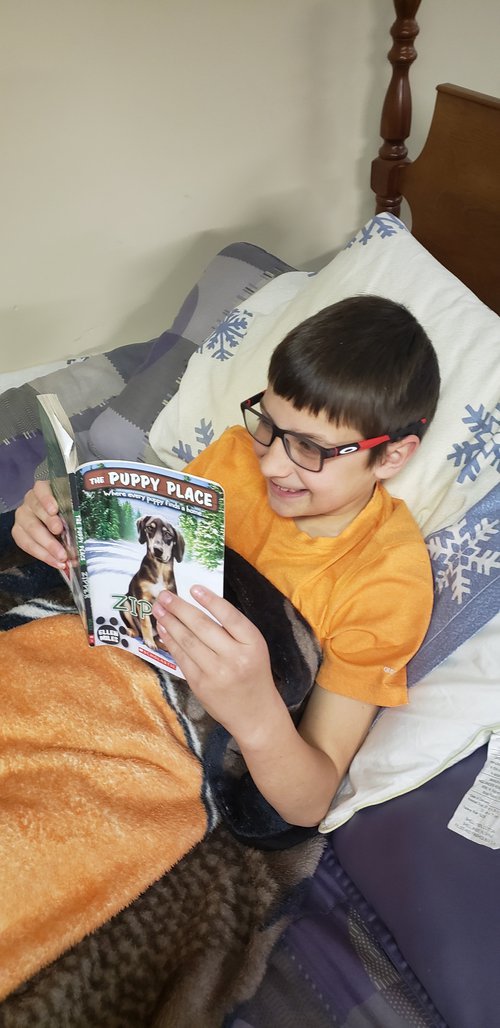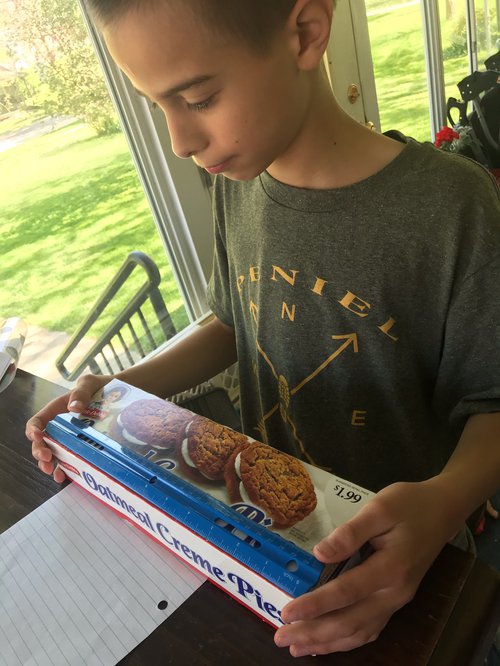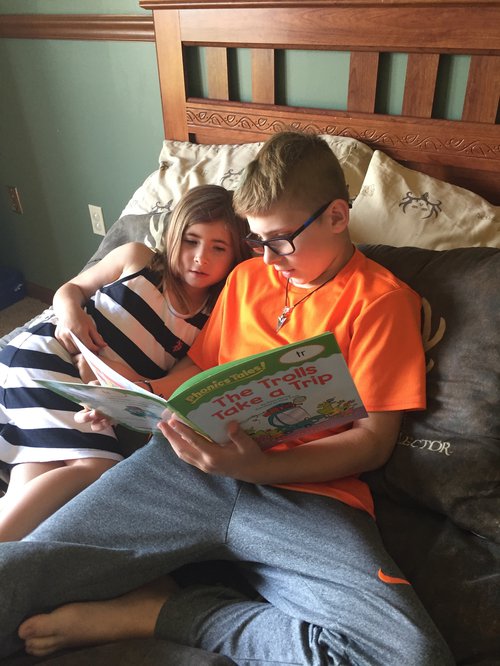 Stem Project
Sasha Reed assembled a solar powered model car. He did a great job of using his math and engineering skills to complete the challenge. He tested it's solar power on a sunny day, and it worked great! Way to go Sasha!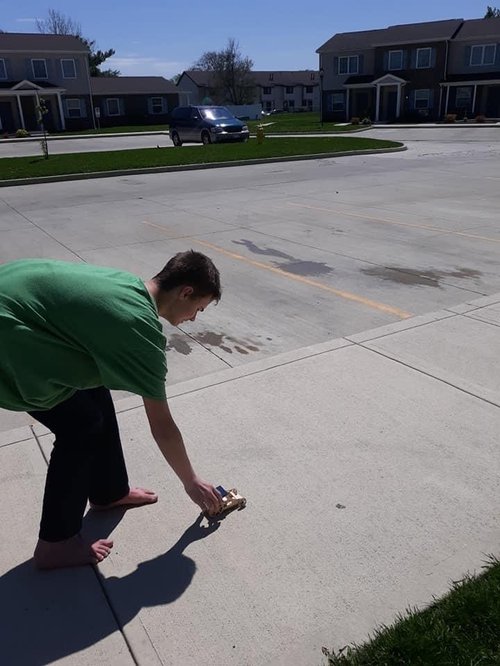 Re-enrollment
Thanks to all those who have re-enrolled for the 2020-21 school year. If you have not yet re-enrolled, we would encourage you to do so soon.  Please let us know if the re-enrollment fee is a challenge for your family. We are happy to work with our families during this difficult time.
EdChoice Scholarship Renewal
All EdChoice renewal forms and proof of address (utility bill or other option) must be sent to Amy Link by May 15, 2020 so we can meet ODE's May 30, 2020 deadline. You can email or mail required documents. Please contact Amy Link at 419 227-1644 or linka@tcspioneers.org for assistance.
Yearbook Order Deadline
There is less than 1 week left to order your 2020 TCS Yearbook! Don't miss out! Order online at jostens.com or email Mrs. Searcy at searcys@tcspioneers.org. Yearbooks are $40, or $45 with name personalization. Orders are due by May 13th!
Middle School / High School "Class of" T-Shirts
The T-Shirts that were ordered in March for the 6th - 12th graders "Class of" will be available for pick up on the TCS pick up/drop off days (19th/20th). These will be worn on several designated "Class of" Fridays NEXT School year!
Athletic Physicals for 2020-2021
Students in 6-11th Grade received an email regarding sports physicals for the 2020-2021 school year. Please review this email if your student (going into 7th-12th) plans to play sports for TCS next school year!
2020-2021 Sports Physicals Packet
Registration for Youth 2020 Fall Sports
Registration for FALL Sports is open online for the following sports by going to the link below … Registration closes for Youth (k-8) Fall Sports on July 31, 2020. 
Soccer K4 through 4th grade (Girls)
Soccer K4 through 8th grade (Boys)
Volleyball 5th through 8th grade (Girls)
REGISTRATION LINK: https://sports.bluesombrero.com/Default.aspx?tabid=283761